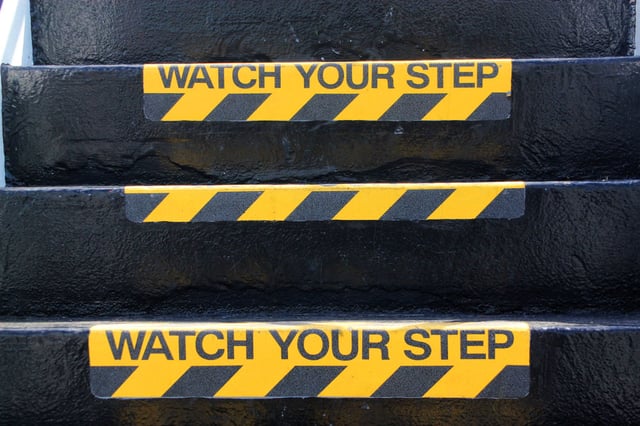 The Content Marketing Institute's 2016 Benchmarks, Budgets and Trends report is out. Based on a survey of 146 for-profit marketers in Australia, the numbers tell all. Here's what they say about the current state of content marketing in Australia. (Hint: most of us are doing it wrong.)
Now more than ever, Australian marketers are seeing the importance of content and the benefits it brings to their brand. Forty-six per cent of respondents say their organisations have documented content marketing strategies, up from 37% last year. And over half (55%) say their organisations are clear on what an effective or successful content marketing program looks like.
It seems peculiar then, that only 28% overall reported that their content marketing efforts were effective (defined as "accomplishing your overall objectives"), a slight dip from last year's 29%. To further confuse matters, content marketing tactics such as social media and paid promotion were rated more effective across the board as compared to 2015.
If promotion and tactical effectiveness were up – leading us to expect greater effectiveness – why the (albeit slight) dip in ratings for overall effectiveness?
The following common mistakes in content marketing may help explain it.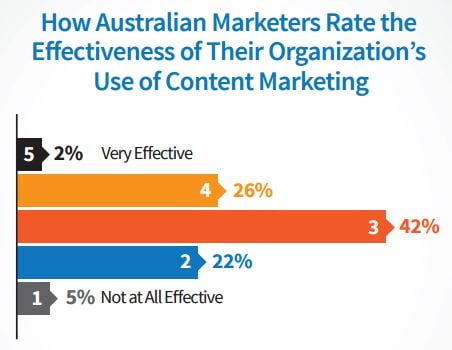 One such downfall is expecting instant results. Content marketing is a long-term play. It takes time to work. Among those who reported the best results from their content campaigns, the majority (64%) rated their content marketing maturity level as in the sophisticated/mature phase, with only nine per cent in the young/first steps phase. According to Joe Pulizzi's book Content Inc., it takes an average of 15 to 17 months of consistent content creation and distribution to reach monetisation, a.k.a. results.
Another major failure could be that the content is simply not fulfilling the unmet needs of the target audience and therefore not valuable to them. Be sure to plan your content around your audience's content needs and map it to the buyer's journey.
Focusing on the wrong metrics gives us a distorted idea of whether our content is working. While new business leads, which most Australian marketers tend to focus on, is clearly the ultimate objective, there are other metrics that should be considered to optimise for long-term effectiveness. It's also unwise to get too stuck on consumption metrics – they may tell you how many eyes were on your content but are less meaningful in terms of figuring out if your content is actually helping to drive business.
What should content marketers really be looking at then?
The Content Marketing Institute found through qualitative research that the majority of content marketing approaches did not include subscription options. Only 68% of Australian marketers rated subscriber growth as an important metric.
That's behind sales lead quality, sales, higher conversion rates, website traffic, sales lead quantity, SEO ranking, purchase intent AND brand lift. Shouldn't a key goal of your content marketing plan be to build your audience over the long term? Generating this valuable asset turns your marketing spend from an expense to investment. Subscribers – to your blog or newsletter – have explicitly opted to hear more from your company. Creating an open channel of communication between you and the people who are most interested in your brand and what you have to say could be your best bet to get new customers.
Here are three ways to grow your audience in financial services marketing:
Maximise online visibility
Upload browser-friendly versions of your newsletters to your website
Share and re-share your content on your social channels
Use social sharing buttons in your emails and blog posts and ask your readers to share or forward to a friend
Implement SEO best practice to help your content be found
Leverage other people's audiences via guest blogging


Make it easy for readers to subscribe
Implement prominent subscribe forms on your home page or blogs – try at the bottom of every article and/or lightbox pop-ups which appear after a minimum of 30 seconds
Pre-populate any fields in subscription forms with information you might already have
Use actionable language on call-to-actions. Instead of "Sign up", use proactive words such as "Subscribe for the latest market insights". This helps bring to mind the value of subscribing and the way the content will benefit the reader


Make it attractive for readers to subscribe
Offer other pieces of valuable content by suggesting related blog posts
Tell the audience about the themes and angles you are about to explore and invite them to join you on the journey
Offer exclusive content for your subscribers e.g. a free eBook for new subscribers
Over the next 12 weeks we will share insights on what Australian financial services marketers NEED to know about content marketing. That includes content marketing for ROI, how to plan content your audience wants to read, and how to map your content to the buyer's journey. We might share the Ultimate Blog Template for financial services at the end of it. So, stay tuned and of course, subscribe!
You can also download our six-step guide to content marketing for financial services here: