A snapshot of the
robo advice industry in Australia
Created by BlueChip Communication
Robo advice is the latest innovation in the wealth management industry globally. Using expertly developed algorithms, these platforms are designed to provide tailored financial advice in a simple, precise and cost-effective way.
BlueChip Communication has drawn on its industry network to put together this snapshot of the robo advice industry in 2016.
Download the map now by filling in the short form on the right.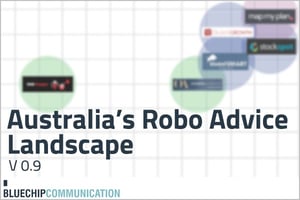 This map is currently still in beta. To get your company on the map, or to give us your feedback, please email fintech@bluechipcommunication.com.au.