The ultimate social media guide for financial services CEOs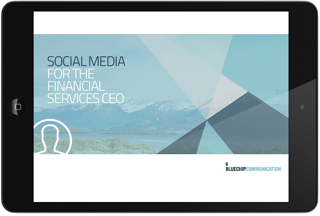 With the proliferation of social media, the need for CEOs to harness this powerful medium has never been more important. A key component in today's digital world, social media has become essential for CEOs looking to shape and build their personal and brands' reputations.
This ebook provides practical tips on doing just that, with real life examples of those who have leveraged social media effectively and the challenges that many encounter.
From reading this guide you'll:
Understand the business case for maintaining a social media presence

Be able to set your social media strategy to help you achieve your key objectives
Know how to effectively use and leverage the key social media channels of importance to you and your audience